A Focus on Families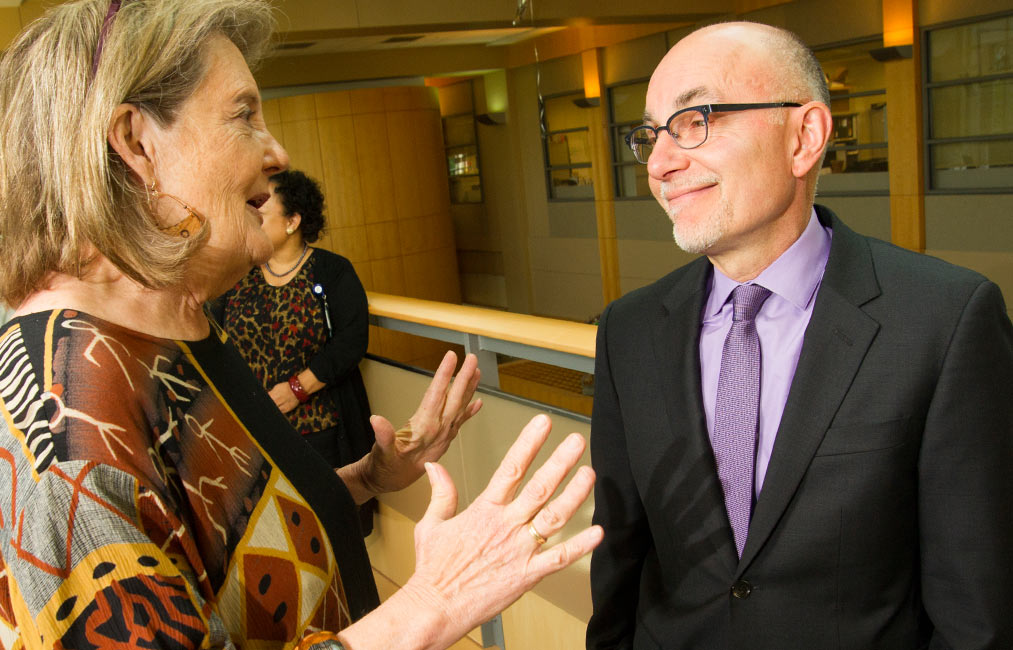 Len Abbeduto knew the UC Davis MIND Institute was a special place long before he became its director.
An internationally respected researcher in neurodevelopmental disabilities, Abbeduto had visited the institute several times before assuming its helm in 2011. The institute's deep commitment to families and their children affected by autism, fragile X syndrome, attention deficit hyperactivity disorder (ADHD) and Down syndrome was something he'd never really experienced in his nearly 30-year career. He wanted to be a part of it.
"The MIND Institute was founded by families for families," says Abbeduto. "That culture is embodied in everyone who works here — from support staff to the scientists developing treatments. As a father, that really resonated with me."
Abbeduto meets with families daily, and is witness to the dramatic impact of the institute's groundbreaking treatment and behavioral therapies on children, including fewer symptoms of autism, improved cognitive functions and improved brain activity. His own research focuses on language and communication challenges, measurement and treatment for the various disorders.
One of Abbeduto's primary roles is bringing together visionary thinkers and problem-solvers from the Health System and Davis campuses to provide a forum for innovative, translational science at the MIND Institute. He appreciates the university's interdisciplinary, collaborative approach to research, and believes it's one of the reasons the institute is succeeding, along with an "unusually talented and hardworking" group of scientists and clinicians.
"Our work reflects the support and collaboration of more than 50 faculty and researchers across our academic departments in medicine, veterinary medicine, biological sciences, engineering, letters and science, and education," says Abbeduto.
The institute also trains hundreds of undergraduates, graduates and postdoctoral fellows — some from around the world — ensuring the next generation of scientists will move neurodevelopmental research forward. 
"As parents, we are forever changed by our children. I see the challenges these families are experiencing, the tremendous hope they have and the faith they place in the institute. They are looking to us for answers, which motivates me every day."
Photo: UC Davis MIND Institute Director Len Abbeduto, right, chats with medical director Randi Hagerman, left, who was "absolutely critical" in shaping his interest in neurodevelopmental disorders and first connected him to the UC Davis MIND Institute. Hagerman developed experimental medications that treat core symptoms in fragile X syndrome, a genetic condition that causes intellectual disability.