The Color of Water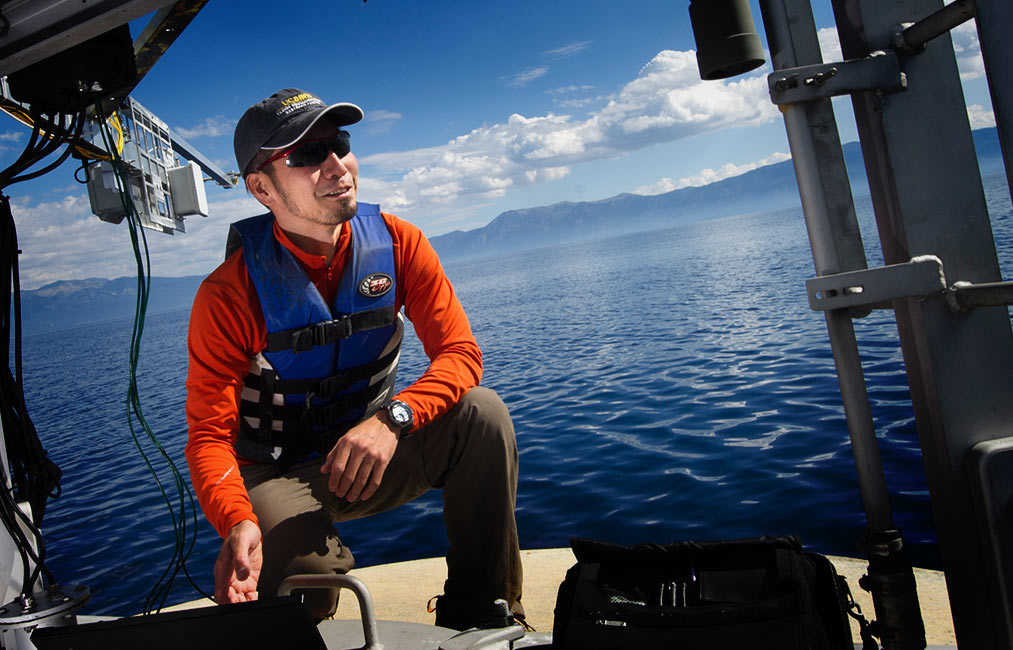 "Color" and "clarity" are often used together to describe diamonds. But in Shohei Watanabe's opinion, the dazzle of diamonds can't compare to the color and clarity found in Lake Tahoe's iconic blue waters.
"Lake Tahoe is beautiful year-round, and I've never seen that clarity or sparkle in any other lake," said Watanabe.
Watanabe is a postdoctoral scholar in limnology at the UC Davis Tahoe Environmental Research Center, where he studies the lake's "blueness." He is particularly interested in understanding the behavior of light within the water and how it impacts lake color, otherwise known as hydrologic optics. 
"Knowing how we can preserve Lake Tahoe's color and keep it beautiful has both environmental and economic impacts for the region," explains Watanabe. "Tourists from around the world visit the region just to see the lake."
Aboard the UC Davis research vessel John LeConte, Watanabe uses a spectroradiometer to take optical profiles measuring light and color at various depths. The Kobe, Japan, native's aim is to develop a color measurement system that will allow TERC to track the lake's blueness over time and show the impact of various contaminants, such as wildfire ash or storm water. 
"I'm hopeful that once I understand the mechanisms behind the water's color, it will help us to make recommendations to policymakers about how to keep the lake cobalt blue," said Watanabe.
In the course of his fellowship, TERC has become a special place for Watanabe, mostly because of his colleagues.
"The scientists and researchers are so passionate and willing to share their knowledge and advice. They work at a different level that continues to inspire me."
Photo: Postdoctoral scholar Shohei Watanabe collects data at a UC Davis-NASA research buoy at Lake Tahoe.