Pioneering Veterinary Dentistry and Oral Surgery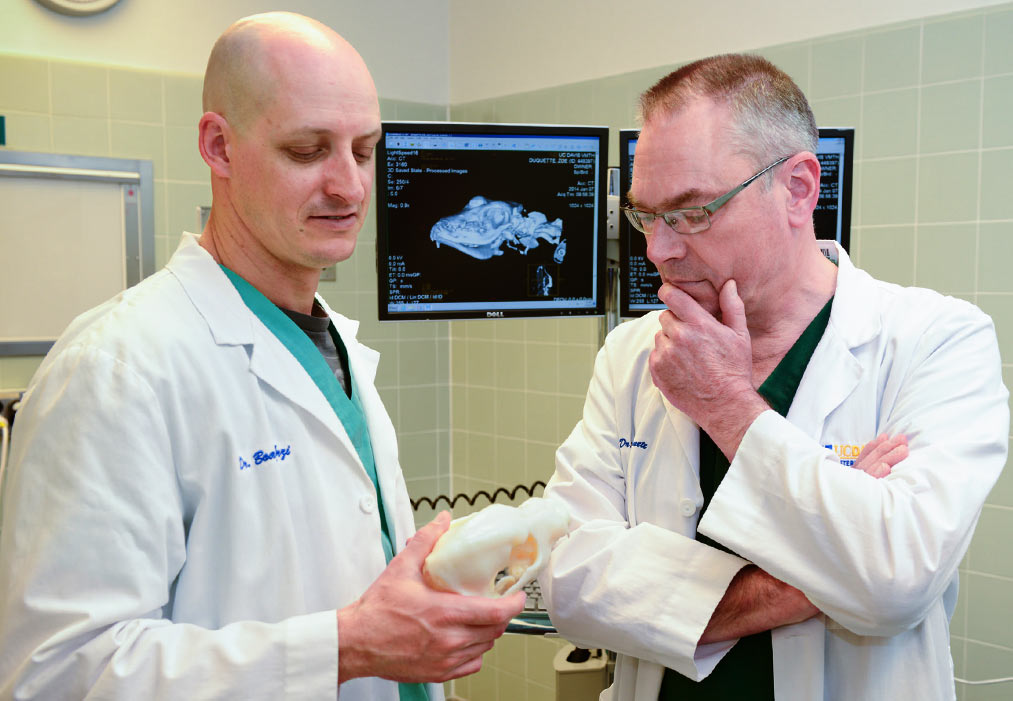 Much like the work they perform on their patients, Frank Verstraete and Boaz Arzi have transformed the face of veterinary dentistry, oral and maxillofacial surgery at the UC Davis School of Veterinary Medicine. By collaborating with campus biomedical engineers, they developed a technique to regrow sections of jawbone in animals that had suffered traumatic injury or had bone removed due to cancer. Nineteen dogs have benefited from the procedure to date, with hopes that the process may one day be used in human medicine.
Pioneering this technique is a dream come true for Arzi, who spent two years in a biomedical engineering fellowship at UC Davis following his veterinary residency before joining the faculty at the veterinary school in 2013.
"My colleagues at UC Davis inspire me to be creative and bring new innovation to the field," Arzi says. "Seeing a dog regain its ability to chew is very rewarding."
In addition to raising the standard of care in veterinary dentistry, Verstraete adds that technological advances such as 3-D printing and modeling, cone-beam tomography and full-mouth radiographs, have transformed diagnostic imaging in the field.
"The future of animal health is limitless because UC Davis has the interdisciplinary resources and collaborative interactions to solve almost any problem we are faced with," says Verstraete, who served as Arzi's mentor during his residency.
In addition to working side by side in the surgical suite, Arzi and Verstraete teach veterinary students and residents to integrate regenerative medicine and tissue engineering with clinical expertise.
"Everyone works very hard together, trying to do their best, while enjoying doing so," Verstraete says. "That keeps me passionate about coming to work every day."
Photo: UC Davis veterinary surgeons (L-R) Boaz Arzi and Frank Verstraete discuss the jaw reconstruction surgery they performed on the dog, Whiskey.
Don Preisler/photo