Putting Waste to Work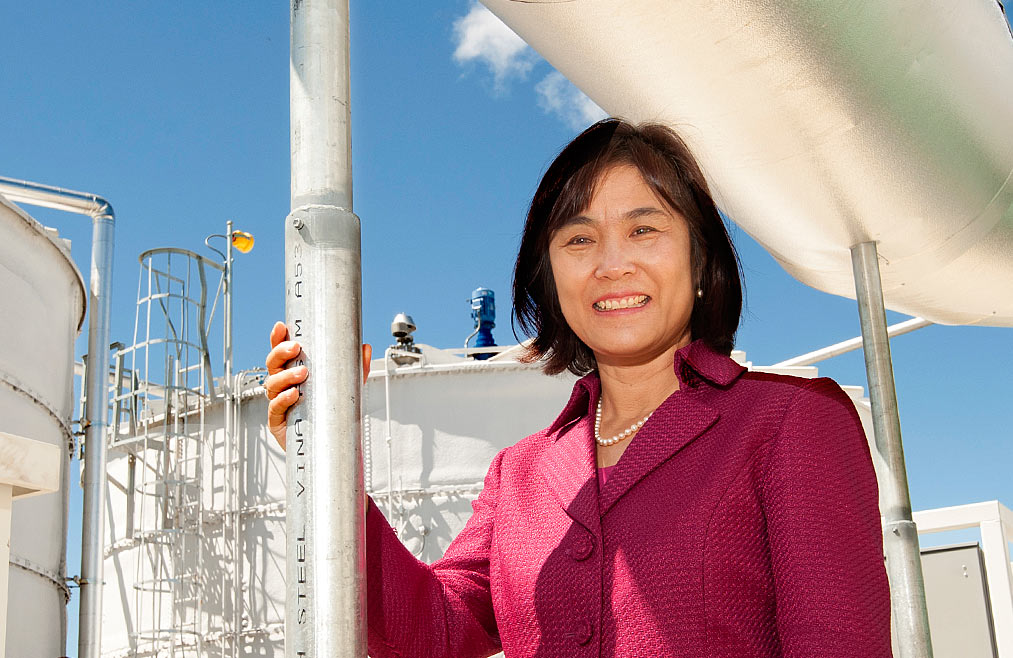 It's a statistic that makes UC Davis biological and agricultural engineering professor Ruihong Zhang cringe:
Nationwide, 164 million tons of waste are disposed of in our landfills annually, including 34 million tons of food waste.
On a crusade against this environmental nightmare, Zhang developed a breakthrough technology called "high-solids anaerobic digestion." The process efficiently converts food and agricultural waste into renewable energy, liquid and solid fertilizer products, and reclaimed water. It can also be used to capture 100 percent of greenhouse gas emissions from organic waste.
Zhang's technology is bringing a sustainable business model to the food-waste sector.
UC Davis collaborated with industry partner CleanWorld to build an anaerobic digestion facility right on campus. Previously, most of the food waste went to a landfill. Now organic waste, including food and animal waste, is treated at the facility, generating renewable electricity every day to power the campus. The facility also produces fertilizer and water products to support food and other agricultural production.
In addition to the Davis location, CleanWorld has developed two large, commercial waste-treatment facilities in Sacramento.
"We're helping businesses and communities achieve their sustainability goals, while making a social and economic impact," said Zhang.
Zhang traces her inspiration for solving agricultural and sustainability-related challenges back to her undergraduate days in China, when she was first exposed to American technology.
"I observed and tested harvester machinery from John Deere, which my college had imported from the U.S.," recalled Zhang. "It was very new compared to what we had in China in the early '80s and very exciting for a city girl."
Zhang enjoys teaching students, and is pleased to see many make the connection between waste generation and disposal to environmental and societal problems.
"More and more people are seeing the value of developing innovative technologies that solve waste-disposal problems and make our world more sustainable."